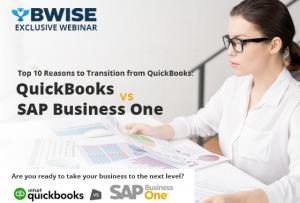 BWISE Solutions – SAP Business One vs Quickbooks
BWISE ERP and WMS Solution for small to medium enterprise
Join BWISE's Exclusive Webinar and Discover How SAP Business One is Tailored to Accommodate the Evolving Needs of Growing Businesses
LONG BEACH, CALIFORNIA, UNITED STATES, September 7, 2023/EINPresswire.com/ — BWISE Solutions, a provider of ERP and WMS solutions, is excited to announce its upcoming webinar titled "10 Advantages of Migrating to SAP Business One" The webinar is scheduled to take place on September 14, 2023, PT from 11 a.m. to 12:15 pm and will be accessible to participants worldwide.
This upcoming webinar aims to equip participants with the insights, strategies, and tools they need to choose the right ERP software for their growing business. Specifically, the webinar will have a deep dive discussion regarding some core differences between SAP Business One and Quickbooks.
Webinar Details:
– Date: September 14, 2023
– Time: 11a.m to 12.15 p.m PT
– Duration: 1 Hour for the webinar | 15 minutes for question and answer
– Platform: Linkedin Live
Agenda and Highlight:
1. Scalability and Growth: Discover how SAP Business One is tailored to accommodate the evolving needs of growing businesses, ensuring seamless scalability.
2. Core difference between SAP Business One and Quickbooks
3. Q&A Session: Get questions answered by our expert panelists
Featured Speakers:
– Mady Lessing
Marketing Director at BWISE, with over 20 years of expertise in ERP, Strategic Marketing, Sales, and Marketing Management.
– Allan Lessing
Vice President of Sales and Operations at BWISE, with a remarkable 30+ years of experience in ERP (Enterprise Resource Planning), manufacturing and distribution.
– Bill Green
Senior Consultant, 18+ years as an entrepreneur working with small to medium businesses in the Point of Sales and Distribution industry.
Participation is free, however, registration is required due to limited availability. Secure a spot by visiting the BWISE Solutions website and reserving a spot today.
About BWISE Solutions:
BWISE is a versatile business management system that can be implemented across all facets of warehouse and front office operations, facilitating optimal business performance through the efficient management of tasks, operations, budgets, and productivity tracking. BWISE provides an intuitive and easy-to-use solution that requires relatively minimal setup and little IT overhead approach to allow businesses to monitor and measure performance, identify problems and opportunities, streamline operations, and improve agility in real-time. This allows organizations to make informed -decisions quickly and efficiently. BWISE also offers comprehensive reporting and analytics capabilities, allowing the identification of areas of improvement and developing strategies for long-term success.
Marketing Team
BWISE Solutions
+1 562-580-1801
info@b1bwise.com
Visit us on social media:
Facebook
Twitter
LinkedIn
Instagram
YouTube