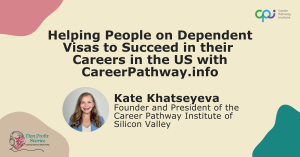 Delve into Career Pathway Institute's Story
Non-Profit Stories: Inspiring Tales from Silicon Valley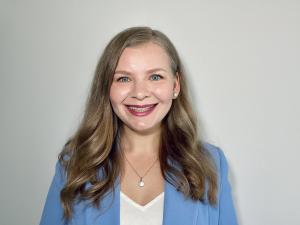 Kate Khatseyeva – Founder and President of Career Pathway Institute
The new podcast episode features Career Pathway Institute's mission to support U.S. immigrants' career journeys.
You are not a burden; you are an asset. Don't let visa restrictions define your worth or your journey."
— Kate Khatseyeva
SAN JOSE, CALIFORNIA, UNITED STATES, September 13, 2023/EINPresswire.com/ — A groundbreaking new podcast episode has just been released, offering invaluable insights for immigrants in the U.S. facing career challenges. The episode features the founder of the Career Pathway Institute, who shares her journey and the inspiration behind her impactful organization.
Kate Khatseyeva discusses her challenges as an immigrant on a dependent visa in Silicon Valley, leading to the establishment of the Career Pathway Institute. This organization aims to support individuals facing similar challenges, helping them rebuild and thrive in their careers.
The episode delves deep into the complexities of understanding and adapting to different cultures, emphasizing the importance of community in aiding this transition. She highlights her experiences with organizations like UNAF (United Nations Association Film Festival) and CCIS (Community Committee for International Students at Stanford), emphasizing the significance of networking in career growth.
The podcast sheds light on various career coaching programs the Career Pathway Institute offers, designed to help individuals navigate their career paths in the U.S.The episode is filled with personal anecdotes, showcasing the transformative power of community, networking, and determination.
Kate's message resonates with many: "You are not a burden; you are an asset." This podcast episode is a testament to the resilience and potential of immigrants in the U.S., even when faced with challenges.
"Non-Profit Stories: Inspiring Tales from Silicon Valley" is a podcast that shares inspiring stories from the non-profit sector. The podcast highlights the work of individuals and organizations making a difference in their communities and beyond.
The episode featuring Career Pathway Institute can be found on all major podcast platforms, including Apple, Spotify, and Google Podcasts.
For more information about Career Pathway Institute, please visit https://www.careerpathway.info/
"Non-Profit Stories: Inspiring Tales from Silicon Valley" podcast is proudly sponsored by TradeMyHome.com powered by Your Home Sold Guaranteed Realty
Nicole Dar
Non-Profit Stories | Inspiring Tales From Silicon Valley
+1 408-763-8131
nonprofitstories@TradeMyHome.com
Visit us on social media:
Facebook
LinkedIn
Instagram
YouTube
TikTok
Other