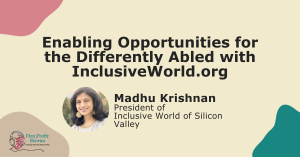 Diving into Inclusive World's Journey
Non-Profit Stories: Inspiring Tales from Silicon Valley
Madhu Krishnan – President of Inclusive World
Inclusive World: From tech sabbaticals to empowering the differently-abled. Breaking barriers and championing diversity in Silicon Valley.
Every differently-abled individual is a beacon of inspiration, waiting for their moment to shine."
— Madhu Krishnan
SAN JOSE, CALIFORNIA, UNITED STATES, August 30, 2023/EINPresswire.com/ — In a groundbreaking new podcast episode, Inclusive World, a pioneering organization in Silicon Valley, unveils its transformative journey in championing inclusivity and empowerment for the differently-abled community. The episode offers listeners an intimate look into the organization's mission, its innovative approach to vocational training, and the inspiring story of its co-founder, Madhu Krishnan.
With an impressive 18-year tenure in the high-tech industry, Madhu Krishnan discusses her transition from IBM to co-founding Inclusive World. Beyond her tech background, her passion for inclusivity and expertise shines through in the conversation.
The episode delves into the unique blend of tech education, like Python programming, with arts and crafts, showcasing Inclusive World's holistic approach to learning. This innovative method has been instrumental in redefining vocational training for the differently-abled.
Rooted in person-centered practices, listeners will discover how Inclusive World's primary mission is to unlock every individual's potential. The organization's commitment to tailored programs ensures that each participant's unique strengths and aspirations are recognized and nurtured.
The podcast also touches upon the importance of community trust in Inclusive World's organic growth. Madhu emphasizes the role of trust and word-of-mouth in establishing Inclusive World as a dedicated center for vocational training and job placements.
Inclusive World, based in Silicon Valley, is a beacon of hope for the differently-abled community. Founded by former IBM professionals, the organization is at the forefront of reshaping the landscape of inclusive education and vocational training. Inclusive World focuses on person-centered practices and offers tailored programs that resonate with individual strengths, ensuring every participant finds their path to empowerment.
"Non-Profit Stories: Inspiring Tales from Silicon Valley" is a podcast that shares inspiring stories from the non-profit sector. The podcast highlights the work of individuals and organizations making a difference in their communities and beyond.
The episode featuring Inclusive World can be found on all major podcast platforms, including Apple, Spotify, and Google Podcasts.
For more information about Inclusive World, please visit https://inclusiveworld.org/
"Non-Profit Stories: Inspiring Tales from Silicon Valley" podcast is proudly sponsored by TradeMyHome.com powered by Your Home Sold Guaranteed Realty
Nicole Dar
Non-Profit Stories | Inspiring Tales From Silicon Valley
+1 408-763-8131
nonprofitstories@TradeMyHome.com
Visit us on social media:
Facebook
LinkedIn
Instagram
YouTube
TikTok
Other