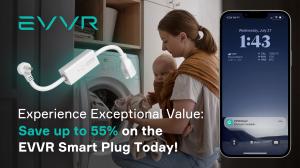 Pre-order the EVVR Smart Plug Now and Save Up to 55%!
EVVR Smart Plug with Space-saving Design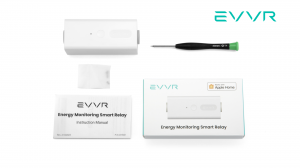 EVVR Energy Monitoring Smart Relay
EVVR, a home automation leader, now accepts pre-orders for its game-changing EVVR Smart Plug on its official website, perfect for upgrading old appliances.
PALO ALTO, CALIFORNIA, UNITED STATES, September 12, 2023/EINPresswire.com/ — EVVR, a rapidly growing company in the home automation segment, proudly announces that its latest innovation EVVR Energy Monitoring Smart Plug is now available for pre-order exclusively on the company's website. Customers pre-ordering the product now are entitled to receive sizeable discounts up to 55%.
EVVR Smart Plug makes it easy to build a smart home and control all indoor appliances remotely using mobile phones. Some of the most loved features of this product include
●Allows users to save power and money by tracking energy in real-time with 99% accuracy.
●EVVR Smart Plug is suitable for tight spaces because of its sleek, compact design with a versatile 90-degree extension cord.
●Apple HomeKit compatibility allows users to seamlessly expand their smart home operations.
●The device can be set-up easily through QR without any electrical expertise.
●With a wide voltage adaptability range of 85-245V, it cater to various set-ups.
●Numerous sophisticated safety measures such as tamper-proof shell, overload and thermal protection, ground connection design, and button lock function.
Just before the pre-order announcement, the EVVR team has updated the product with the inclusion of the following new and exciting features.
●24/7 Router Reboot: EVVR Smart Plug can monitor Wi-Fi 24/7 and reboot the router when it detects Internet failure. Therefore, users won't be bothered and can enjoy a real connected life even when they are away from home.
●Real Time Notification: Users can now set a maximum and minimum power on EVVR App for appliances like dryer and receive a notification when drying is complete.
●Voice Control: Users can also control the appliances connected to EVVR Smart Plug with voice.
Customers pre-ordering EVVR Energy Monitoring Smart Plug have two options to choose from. The Smart Plug is suitable for all because of its plug-and-play features. On the other hand, the Smart Relay is tailor-made for DIY enthusiasts looking to retrofit and transform old household machines into smart ones.
Interestingly, the initial plan for EVVR was to start the pre-order of EVVR Smart Plug through a Kickstarter campaign. However, later on, the company decided to go with its official website for several reasons.
"We had to change our plans because there is a huge demand for EVVR Smart Plug in several areas where Kickstarter's service isn't available. We want to make sure they can receive the products and enjoy the convenience of smart plug as soon as possible. This is why we have launched the pre-order on our official website with the same discount we had planned for Kickstarter. As always, EVVR remains committed to providing first class after-sale service to all the customers," said Martin, CEO of EVVR.
About EVVR: EVVR ApS, a home automation solution provider, is transforming the way that people live, work and play by developing intelligent automation tools that enable people to live genuinely efficient lives. The EVVR team has been creating innovative smart home technology solutions for more than seven years, led by a team engineers and designers with a wealth of industry experience. Its robust home automation system connects a range of devices and runs them locally from one control unit.
Helene Li
EVVR ApS
pr@evvr.io
Visit us on social media:
Facebook
Twitter
LinkedIn
Instagram
YouTube