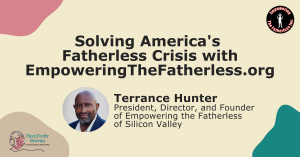 Deep dive into Empowering the Fatherless's Success
Non-Profit Stories: Inspiring Tales from Silicon Valley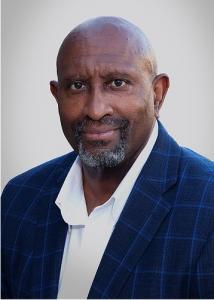 Terrance Hunter – Director, Founder, and President of Empowering the Fatherless
The episode highlights mission dedication, the 24-7 Dad initiative, partnerships, and the group's vision—transforming adversity into purpose.
From the pain of being fatherless, I found my passion in empowering the fatherless."
— Terrance Hunter
SAN JOSE, CALIFORNIA, UNITED STATES, September 6, 2023/EINPresswire.com/ — The latest podcast episode, "Solving America's Fatherless Crisis with EmpoweringTheFatherless.org," delves deep into the transformative journey of a nonprofit organization making waves in Santa Clara County. This episode promises listeners an intimate look into the heart and soul of an organization dedicated to uplifting at-risk youth and men lacking fatherhood skills.
The episode chronicles the inception of "Empowering the Fatherless," a 501c3 nonprofit organization, and its founder, Terrance Hunter, about his journey from 30 years of confinement to becoming a beacon of hope. Terrance's story is a testament to the power of redemption, resilience, and the drive to make a difference.
The podcast emphasizes the importance of nonprofits remaining true to their core mission, even amidst challenges. Terrance shares his anecdotes highlighting the significance of integrity, especially when navigating the complex world of donations and resources. The podcast delves into the organization's long-term vision, emphasizing sustainable growth and lasting impact. Heartfelt stories from Terrance underscore the importance of open communication, especially for victims of fatherlessness.
He introduces listeners to the 24-7 Dad program, a transformative initiative that redefines masculinity and emphasizes responsibility, care, and community involvement. This episode sheds light on the organization's diverse range of courses, from values and responsibility to specific topics like the effects of vaping and opioids. Terrance also passionately speaks about the importance of early intervention, ensuring individuals overcome childhood trauma and lead fulfilling lives.
The podcast also highlights the organization's collaborations with the San Jose Youth Empowerment Alliance and the South County Youth Task Force. Terrancer's upcoming participation in the Global Homeboy Network Conference in Los Angeles is eagerly anticipated by listeners, promising new insights and opportunities for expansion.
"Empowering the Fatherless" is not just an organization; it's a movement," said it's host 'Sharad Gupta'. This podcast episode offers listeners a front-row seat to witness the transformation of pain into purpose, challenges into opportunities, and despair into hope. With unwavering commitment and community support, the future looks bright for this beacon of hope in Santa Clara County.
"Non-Profit Stories: Inspiring Tales from Silicon Valley" is a podcast that shares inspiring stories from the non-profit sector. The podcast highlights the work of individuals and organizations making a difference in their communities and beyond.
The episode featuring Inclusive World can be found on all major podcast platforms, including Apple, Spotify, and Google Podcasts.
For more information about Empowering the Powerless, please visit https://empoweringthefatherless.org/
"Non-Profit Stories: Inspiring Tales from Silicon Valley" podcast is proudly sponsored by TradeMyHome.com powered by Your Home Sold Guaranteed Realty
Nicole Dar
Non-Profit Stories | Inspiring Tales From Silicon Valley
+1 408-763-8131
nonprofitstories@TradeMyHome.com
Visit us on social media:
Facebook
LinkedIn
Instagram
YouTube
TikTok
Other