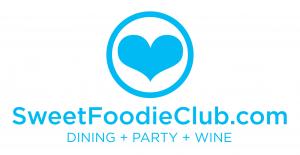 Participate in Recruiting for Good's 1 referral 1 reward to help fund The Sweetest Gigs and earn Sweet Foodie Club Rewards (dining, parties, wine); enter drawing to win trip for 2 to 2024 NYC Wine & Food Festival #sweetfoodieclub www.SweetFoodieClub.com
Participate in Recruiting for Good's 1 referral 1 reward to help fund The Sweetest Gigs and earn Sweet Foodie Club Rewards (dining, parties, wine); enter drawing to win trip for 2 to 2024 NYC Wine & Food Festival #sweetfoodieclub www.SweetFoodieClub.com
Staffing agency, Recruiting for Good helps companies find talented professionals and generates proceeds to make a positive impact www.RecruitingforGood.com
Recruiting for Good is a value driven staffing agency helping companies find talented professionals to fund The Sweetest Gigs for kids; and rewarding referrals.
Love to dine in LA, support kids programs, and party for GOOD! Join The Sweet Foodie Club…"
— Carlos Cymerman, Sweet Founder, Recruiting for Good
SANTA MONICA, CA, UNITED STATES, September 6, 2023/EINPresswire.com/ — Staffing agency, Recruiting for Good (R4Good) helps companies find talented professionals; and generates proceeds to make a positive impact.
In an effort to self-fund, 'The Sweetest Gigs;' Recruiting for Good is now rewarding referrals to companies hiring professional staff with Sweet Foodie Club Rewards (dining, party, wine).
According to Carlos Cymerman Founder Recruiting for Good, "We appreciate referrals to companies hiring; they allow us to fund our meaningful mentoring program for exceptionally talented kids!"
Love to Dine in LA, Make Positive Impact, and Party for Good
Successfully participate in '1 Referral 1 Reward' to earn $1000 dining gift card to favorite LA restaurant, $500 wine club gift card, and invites to exclusive dining experiences in LA (including Txoko USA).
Carlos Cymerman adds, "Make a referral before Summer 2024 to earn your Sweet Foodie Club Rewards; and enter drawing to win a sweet NYC trip for two to experience one of the best Wine and Food Festivals (NYCWFF, Fall 2024)!"
About
Love to Support Talented Kids Program and Experience The Sweetest Dining in LA? Join The Sweet Foodie Club. Participate in Recruiting for Good's '1 Referral 1 Reward' program to help the staffing agency connect to companies hiring professional staff and generate proceeds to self-fund The Sweetest Gigs (cost-free program for kids). And earn the sweetest foodie rewards (dining, parties, wine); enter drawing to win a trip for two to 2024 NYC Wine and Food Festival to learn more visit www.SweetFoodieClub.com
Since 1998, staffing agency Recruiting for Good has been delivering sweet employment solutions by helping companies find and hire talented professionals they love; in Accounting/Finance, Engineering, Information Technology, Marketing, and Operations. And Recruiting for Good generates proceeds to make a positive impact; Good for You + Community Too. To learn more visit: www.RecruitingforGood.com
Since March 2020, Recruiting for Good has been funding and running 'The Sweetest Gigs' for Talented American Kids. We teach kids sweet skills, success habits, and positive values. Kids who land a sweet gig; learn to earn and love to work. Our sweet gigs are perfectly designed for 5th graders who do their chores, their homework, and make 'mom and dad proud.' The sweet gigs are treats for GOOD kids! To learn more visit www.TheSweetestGigs.com
Carlos Cymerman
Recruiting for Good
+1 310-720-8324
email us here
Visit us on social media:
Facebook
Twitter
LinkedIn
Instagram